Installing a new artificial lawn on your property can provide comfort, beauty, and excitement, but it is also a big decision and should be well thought out. Knowing that it will take hardly any of your time or effort for maintenance and it will stay looking perfect all year round are just two of the great reasons to install artificial grass. In fact, having such an incredible new outdoor space can improve your motivation to spend time outside and improve your lifestyle.
But with every major home decision, it's best to make sure you've planned everything out and foresee any complications or issues to avoid.
That is why we've put together a list of the top 5 mistakes to avoid with your new artificial lawn. Let's take a look!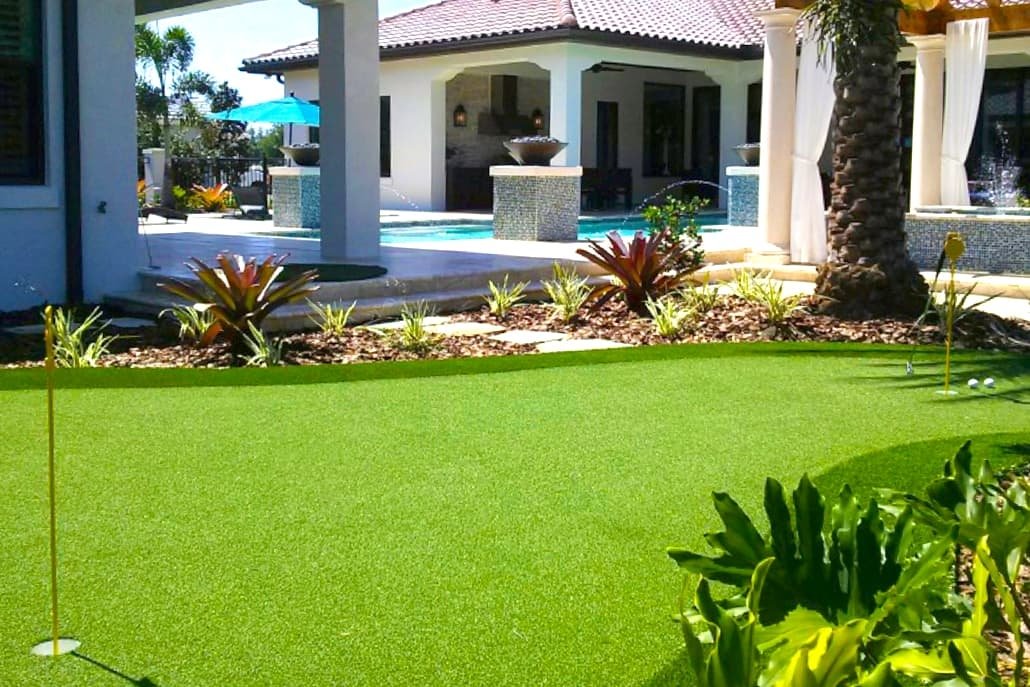 Choosing the Wrong Type of Grass
Did you know that we make a variety of different types of artificial grass? Ideal Turf has been in the industry for years, striving to improve and find solutions for people who want artificial grass. That's why we decided to create and provide our own artificial turf products and installation process. We were able to find answers that solve many of the problems we've found when working with other artificial turf companies, their products, and their installation processes.
Installing the right type of lawn will help ensure that your lawn lasts for its full lifetime, as well as manages water, pets, and other damaging effects on your beautiful new lawn. We put together a complete list of our artificial grass products for you to view and compare the different capabilities and strengths, so that you can make an educated decision. We're also available to be contacted by phone to discuss and answer any questions you may have on our artificial lawn products.
Incomplete Planning
When an artificial turf installation is done wrong, it can cause issues with water removal, durability, and the evenness of the turf. While there are many issues that can come up during an installation, we created a process and trained our crew members to be able to handle each situation uniquely.
At Ideal Turf, we begin our process with a Design Consultant visiting your project area to take exact measurements, show you and let you feel real turf samples, and working with you to design and draw your project just the way you want it. Obviously, sometimes projects can change a little here and there, but this process allows us to get our trained, expert eyes on the project site and help reduce the chance of unforseeen issues.
Installing a Little Bit at a Time
As Texans, we've all heard the saying, "Do it right the first time, or don't do it at all."
Those are words to live by when it comes to the importance and value you gain by having a beautiful artificial lawn. The best and most sensible approach is to prepare to do the entire lawn all at once rather than just sections at a time. While turf allows for you to be able to cut to remove or add to your project later, we find that more often than not, it is difficult to get the turf colors to match up perfectly, as many turf products are dyed in batches. To keep your lawn beautiful and all the same color green, we recommend getting all your turf from the same batch, which means completing the project all in one go. This can be more costly, but we do offer financing through Enerbank– just call 800-204-4650 for more information about our financing program!
Not Getting The Best Drainage
Artificial lawns have come a long way over the years. Ideal Turf has set the industry standard with a fully permeable, no standing water system called our Cascade Backing System. That's right, the majority of our turf products have complete drainage, which means there is no odor or standing water in your yard creating mold and other issues. Our Cascade backing also has antimicrobial agents to keep mold, mildew, and other bacteria away!
Don't settle for any artificial grass that doesn't guarantee the fastest lab-tested drainage on the market. Poor drainage of any amount is asking for problems and more expenses in the future.
Avoid Bumpy & Uneven Surfaces
Have you ever seen bumpy carpet? When turf is installed incorrectly, it is just like bumpy carpet. Don't end up with a bumpy surface for your turf; trust our proven installation process that uses the best market researched product to provide smooth even surfaces that promote optimal drainage. Our installers like to do the project right the first time, but we also offer 5-15 product warranties and a 1 year installation warranty, so rest assured that if there is a problem that is our fault, we want to fix it for you!