Artificial Grass Around Pool — Swimming Pool Area Ground Cover
Artificial grass around swimming pools is a low maintenance pool area ground cover that homeowners trust to improve their pool deck and pool area safety. Spend your time relaxing in your pool, not maintaining the grass around it. When your swimming pool is surrounded by synthetic turf, you get the look and feel of real grass without the time-consuming, expensive upkeep.
Turf Products
Professionally Installed Artificial Turf for Pool Areas & Pool Decks in Texas & Oklahoma
Transform your backyard and pool area with an artificial grass installation by Ideal Turf. Your backyard will look well-manicured and well-maintained with little effort from you! Artificial grass around your pool will enhance the aesthetic of your yard and provide many other benefits. Our expert turf installation crews have decades of combined experience and will respect your home and your privacy throughout the installation process.
Bring a new level of comfort to any in-ground swimming pool. Instead of concrete, surround your pool with artificial grass and enjoy the lush, soft, natural-looking ground cover. You'll enjoy soft grass under your feet without the mess, puddles, and harsh feeling of concrete on your feet. Any water that's splashed out of the pool will drain right through the turf, as opposed to creating puddles or carrying dirty water back into your pool.
Pool Area Landscaping Solutions — Artificial Grass Around Pool
Traditionally, most in-ground swimming pool decks are made of concrete or other hard materials. Concrete is expensive, tile is dangerously slippery when wet, wood decking requires a ton of maintenance, and pavers take a lot of elbow grease to keep up. A natural-looking synthetic grass extending around your pool offers the beauty and functionality that other pool decking materials can't compete with, making artificial grass the best choice for swimming pool area landscaping.
Above Ground Pools
In-Ground Pools
Pool Decks
Natural Looking
Artificial Grass for Pool Areas
Expert Turf Installers
High-Quality Turf Products
15 – 20 Year Warranty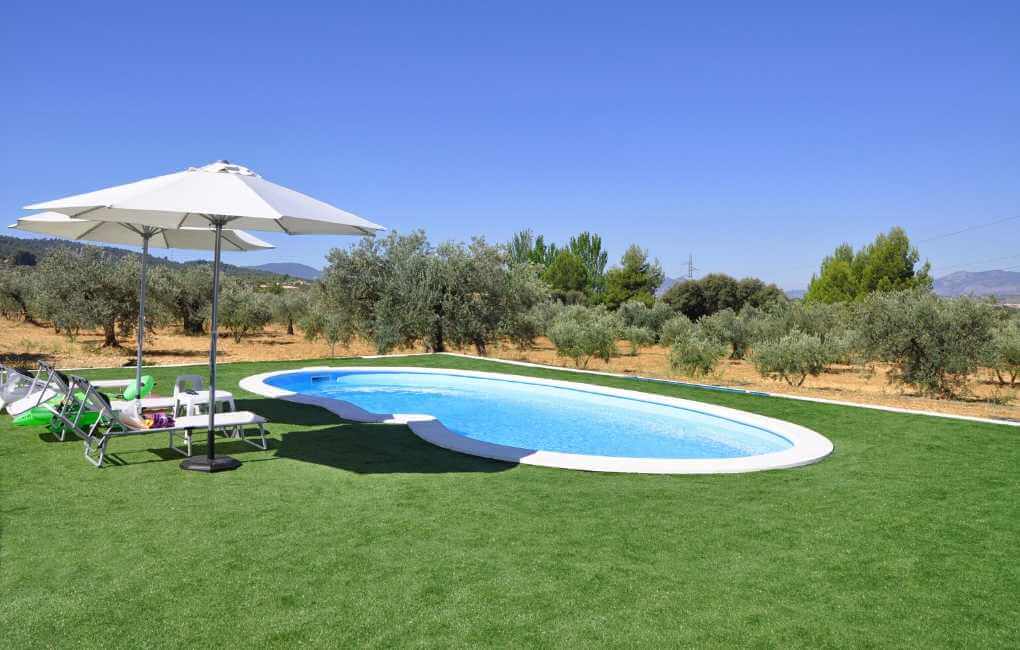 Benefits of Artificial Grass Around Swimming Pools For Homeowners
Artificial grass around pools requires little maintenance. There is no mowing involved, cutting down on emissions from gas lawnmowers. It also does not require weed killers or pesticides, which is healthier for your family and pets. Combined, these two factors add up to contributing toward a greener planet and more time for you to be with your family.
Artificial Grass FAQs
Ideal Turf's Recent Installations of Artificial Grass Around Pools in Texas
When you need artificial turf in Texas, your first call should be to Ideal Turf. We are professional, timely, and creative in our backyard swimming pool turf solutions. Our skilled technicians are trained in the latest in modern technology when it comes to artificial grass installations, so you can be sure you will get lasting results.
Artificial Grass Around Pool
Frequently Asked Questions
Below are the most frequently asked questions that we hear regarding artificial grass for pool areas, and pool decks. If you have a question but don't see the answer below, please reach out and let us know.
Why should I choose Ideal Turf to install artificial grass?
Ideal Turf is locally owned and independent.
The synthetic grass products we use have been independently lab-tested and engineered to ensure that you receive the highest quality, best performing artificial turf products in the industry.
Let's discuss your project so you can see for yourself why we're the #1 artificial grass company in Texas.
Does Ideal Turf install artificial grass around pools where I live in Texas?
Will the chemicals in pool water damage artificial grass?
Quality artificial grass will not be affected or become discolored when it's exposed to pool water. It will stand up to chlorine and salt and drain it safely into the sub-layer underneath. Alternatively, natural grass can be burned by the chemicals in pool water, making it very hard to regrow if it absorbs water that contains chlorine and salt.
Can I put tables, chairs, or umbrellas on artificial grass?
Absolutely, artificial turf can handle a lot of weight. It's similar to carpet in how it reacts to objects being placed on it. A large flat surface will press the grass fibers down and will bounce back when the object is removed. A chair leg or table leg may leave a temporary mark but if it's going to be used long term we suggest using a mat or something similar.
Can I put an above ground pool on top of artificial grass?
Yes. An above-ground pool filled with water weighs a lot but as long as the sub-layer was prepared properly the artificial grass will not be damaged or have any problems holding the weight. The grass blades will flatten under the pool and should rebound quite nicely if the pool is ever drained or moved.
Is artificial grass around pools slippery when wet?
Artificial grass is designed to be non-slip and with our industry-leading "Cascade Backing" turf drainage system, it won't hold water which means it will dry out very fast in the sun. When compared to natural grass that can retain water, form puddles, or become muddy, synthetic grass is superior from a safety perspective with regards to slips and falls around a pool.
How much does artificial grass around pools cost?
The cost of artificial grass varies depending on a number of factors. Think of it as an asset and investment that will increase the value of your property. Unlike most home improvement projects, artificial grass installed by Ideal Turf will pay for itself in a few years!
For instance, say you spend $200 per month on landscaping and watering costs… that's $2,400 a year. Over five years, your cost is $12,000. The average Ideal Turf lawn can be installed for much less than this!
For an approximation of cost for your pool area turf installation, check out our artificial grass cost calculator.
If you'd like a detailed breakdown of costs using the artificial grass industry's averages, I suggest reading Home Advisor's Guide.
What turf products do you recommend for pool area applications?
For artificial grass around swimming pools and other similar outdoor applications, we recommend the following artificial grass products:
Nothing looks better in a Texas backyard than a cool, refreshing pool surrounded by lush green artificial grass. Throw in a private poolside backyard putting green, and you'll be the envy of the neighborhood! You may find our guide to putting green design helpful.
How long does it take to install artificial grass around swimming pools?
This depends on the size of the project and how much preparation is necessary to get the area ready for installation. An average landscaping area might take 1 to 3 days. Each installation is customized, so it is hard to determine this without a site visit. To get a more specific timeline, please Contact Us to Request a Free Quote!
Can artificial grass be installed indoors as well as outdoors?
YES!
Absolutely… Ideal Turf offers both indoor and outdoor artificial grass installation for residential and commercial applications.
How long does artificial grass around pools last?
Our turf products have a 20-25 year life expectancy. Our warranty guarantees that it won't fade or fall apart and that it will look great for years to come!
Can artificial grass stand up to the constant heat of Texas summers?
Yes, artificial grass can handle the Texas summer heat!
Artificial grass has advanced significantly in recent years and the synthetic turf products that are produced today feature UV resistant materials and components that give it a high heat and fire rating. It won't discolor from the UV rays from the sun and it will hold its color even when exposed to chlorine and salt.