Artificial Turf for Apartments & Property Managers
Reduce your operating expenses with artificial grass. Our commercial turf solutions will help to increase your property value, improve curb appeal, and lower maintenance costs.
Turf Products
Artificial Grass for Apartments & Property Managers in Texas & OKC
Artificial grass is the perfect choice for apartments and property managers looking to improve the aesthetics of their commercial property. Ideal Turf's artificial grass is not only good for the environment and helps contribute to building green, it also improves the bottom line by reducing costs associated with the maintenance of natural grass landscapes. The expense of commercial landscaping professionals mowing, fertilizing, re-sodding, and general upkeep can cost thousands annually.
A growing number of commercial property managers recognize how they can save money on maintenance and countless gallons of water with artificial grass. Our modern synthetic turf products look just like real grass, with much less hassle. Not only will synthetic turf drastically reduce your monthly maintenance and water bills, it will also add curb appeal while transforming the aesthetic of your property.
Commercial Turf Solutions for Apartments & Property Managers
A custom landscape design will boost curb appeal and draw in new business. Our artificial grass installations create a unique and interesting focal point for any commercial property in Texas. There is no space too large or small for artificial grass installation. Consider the following applications:
Putting Greens
Common Areas
Dog Parks
Playgrounds
Sports Fields
Recreational Areas
Swimming Pools
Rooftops, Balconies, Patios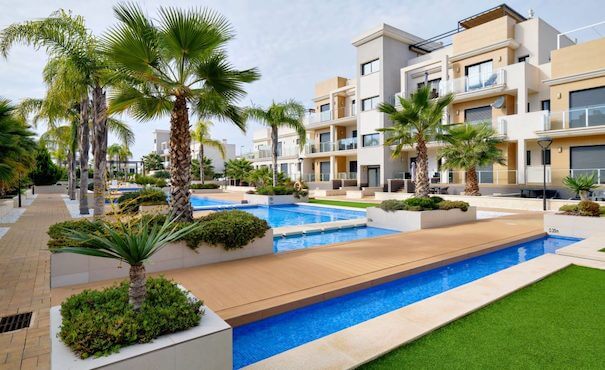 What Are The Benefits Of Artificial Turf For Apartments, Property Managers & Business Owners?
Ideal Turf is your artificial grass specialist. We have over 25 years of experience as turf installers and are able to install synthetic grass at your Texas business or commercial property. Our services span a wide range, from dog parks, to bocce ball courts, to swimming pool areas, and more. Reach out to us to start discussing your artificial grass project today!
Artificial Grass FAQs
Recent Artificial Grass Installations at Apartments & Commercial Properties
When you need artificial grass installed at your commercial property or business in Texas, let your first call be to Ideal Turf. We are professional, timely, and creative in our commercial turf solutions. Our skilled technicians are trained in the latest in modern technology when it comes to artificial grass installations, so you can be sure you will get lasting results.
Apartments & Property Managers
Frequently Asked Questions
Below are the most frequently asked questions that we hear from apartment & property managers regarding artificial grass. If you have a question but don't see the answer below, please reach out and let us know.
Does Ideal Turf do commercial turf installations where I live in Texas?
Ideal Turf's professional artificial turf installation crews serve in and around the following cities throughout Texas:
Will dogs damage artificial grass at my commercial property?
No. The brown spots or destroyed areas that you are accustomed to seeing with natural grass lawn will not be the case with synthetic turf. Our heavy-duty pet turf will stand up to even the toughest pups.
Our industry-leading 100% permeable "Cascade Backing System" drains an incredible 1,500 inches per hour, so you don't have to worry about odors or mildew buildup from multiple pets' daily routines.
You simply rinse off the area in question and enjoy a long-lasting, plush, green artificial grass lawn for years to come.
Why should I choose Ideal Turf to install artificial grass?
Ideal Turf is a locally owned and independent artificial grass company.
The synthetic grass products we use have been independently lab-tested and engineered to ensure that you receive the highest quality, best performing artificial turf products in the industry.
Additionally, our artificial turf installation crews are the best around.
What turf products do you recommend for Commercial Properties?
Ideal Turf's product lineup provides the perfect solution for high traffic settings and other challenges that commercial properties face.
If you're interested in an artificial turf putting green for your outdoor living space, Ideal Turf can handle that as well.
How long does it take to install artificial turf?
Can artificial grass be installed indoors as well as outdoors?
YES!
Absolutely… Ideal Turf offers both indoor and outdoor artificial grass installation for commercial and residential applications.