Pet Turf — Artificial Grass for Dogs in Texas
Every pet owner has different needs and concerns. We work with you to determine exactly what you need and design your pet turf solution to fulfill that need. At Ideal Turf we consider everything that goes into creating the perfect dog run or pet area before we recommend a solution.
Turf Products
Professionally Installed Pet Turf & Artificial Grass for Dogs!
Ideal Turf is proud to feature the best pet turf in the industry because we've been innovating, testing, and improving our pet turf to ensure that our customers throughout Texas are always blown away with the aesthetics, durability, and performance of their pet turf installation! Get ready to stow away the lawnmower and say goodbye to the costly expenses of maintaining real grass, and staring at unsightly brown spots from dog urine for our low-maintenance artificial grass for dogs. Our pet turf products look and feel like natural grass while providing a durable, stain-resistant surface that discourages even the most persistent digger. A 100% permeable "Cascade Backing" is knitted to allow for optimal drainage. You won't have muddy spots or trapped odors, which leaves you with a clean dog, lawn, and home. Plus, Ideal Turf's products have antimicrobial properties for a cleaner, safer, better smelling environment.
Pet-Friendly Turf for Dog Runs, Pet Areas, Backyards, & More!
Artificial grass for dogs requires no water and is virtually maintenance-free, saving you time and money. Pet turf is also one of the most environmentally friendly landscaping solutions available.
Mud-Free Playing Surface
Bug & Critter Free
Allergen Free
Fertilizer & Insecticide Free
No More Digging!
Low Maintenance
Eco-Friendly
Stays Green Year-Round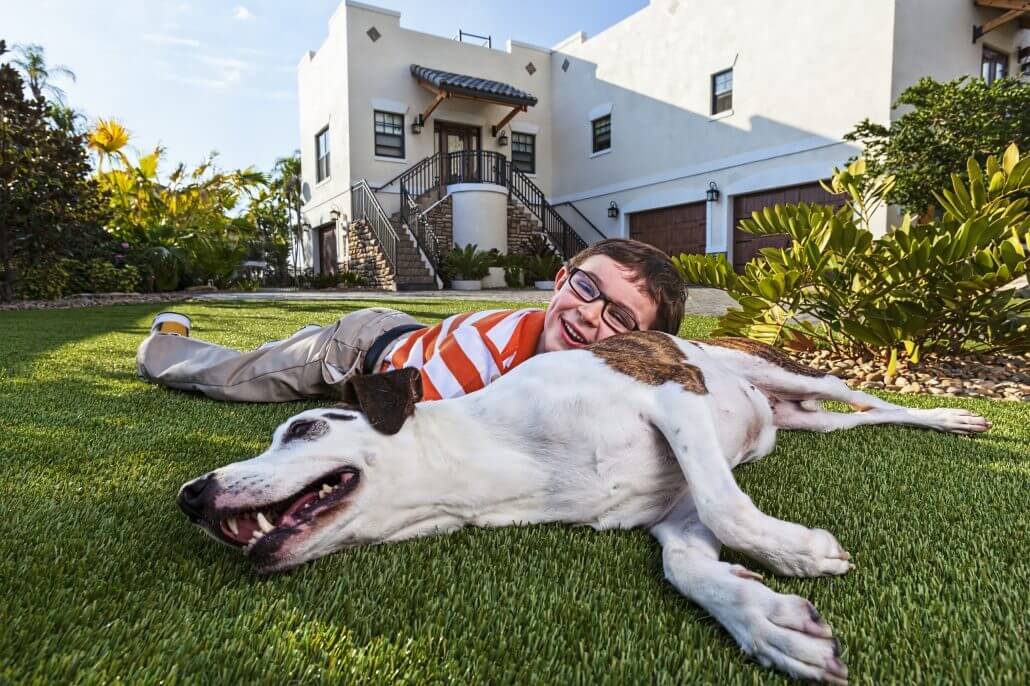 Benefits of Artificial Grass for Dogs & Pet Turf for Texas Homeowners
Having Ideal Turf install pet turf in your Texas yard will not only please your pup but also eliminate yard work and maintenance costs. Fake grass for dogs can also provide a boost to your yard's aesthetics. Our pet turf comes equipped with our industry-leading drainage technology: "Cascade Backing System."
Artificial Grass FAQs
Pet Turf Drainage
The most important feature to consider before choosing artificial grass for your pets is drainage. Drainage efficiency is ultimately what eliminates mud and puddles from a yard, which is one of the biggest perks of pet turf.
Most artificial grass products on the market have hole-punch backings, which means pet urine has to make its way to drainage holes before passing through the turf. It is not uncommon for liquids, including urine, to rest in the areas between these drainage holes which results in a terrible odor. On top of that, the infill that is used to weigh down the turf can make its way to the drainage holes and completely block them. This blockage is bad because it can create puddles of urine or water on top of your turf.
All of our pet turf products feature our proprietary Cascade Backing turf drainage technology, a 100% permeable, non-perforated backing that increases drainage capacity by over 100% and allows pet urine to drain through any point of the turf. With an edge-to-edge drainage system like our Cascade Backing, the urine does not need to find these holes to drain; it just drains right through. Our turf backing also eliminates the issues with infill clogging drainage holes, because there are no drainage holes!

Ideal Turf's Recent Pet Turf Installations in Texas
Here in Texas, when it comes to pets there is no better solution than Ideal Turf. We install our pet turf solutions at both residential and commercial properties. Our Pet System is designed for pets of all shapes and sizes. Ideal Turf addresses all the needs of the pets and pet owners we serve. We consider everything that goes into making the perfect pet area or dog run before we recommend a solution.
Artificial Pet Turf
Frequently Asked Questions
Below are the most frequently asked questions that we hear regarding pet turf, artificial grass for dogs, faux grass for pets, and fake grass for dogs.
What's the best artificial pet turf solution?
From our experience, the turf products that are best for dogs have two main properties: a short pile height and tightly woven fibers. Dogs, especially small dogs, tend to dislike the way the longer turf feels on their paws and when they are doing their business.
We usually recommend our turf products with a pile height of about 1.5 inches or shorter. In addition to the dogs being happy, we have found that their owners also want turf that looks great and is easy to clean. Our turf products with tightly woven fibers don't allow for debris and pet waste to easily sink in between the blades, making it easy for messes to rest on top and be cleaned off with a hose.
Is the cost of artificial grass for dogs worth it?
Yes, it absolutely is!
Artificial grass makes it easier for you to have a dog and also have a lawn that you love! Over 80% of our customers have dogs and the number one reason why they want turf is because their lovable, furry friend is making it hard for real grass to grow. With a pet turf installation by Ideal Turf, you get the lawn you want, while giving your dog a clean and safe place to run, play, roll around, and yes, do their business. With artificial turf for dogs you'll be able to keep your house clean and free of muddy paw prints whenever it rains.
How long does artificial grass for dogs take to install?
One of the best things about installing artificial grass for dogs is that it doesn't take any longer than a normal installation!
While every installation time is different depending on size, amount of ground removal, amount of base, and amount of objects to work around (think trees), artificial grass for dogs doesn't take any longer to install. The installation process and products are both specially designed for pet use, but our crews are experienced and prepared for every installation, so they know just what to do for pet-friendly installations.
Is artificial pet turf safe for dogs? What about kids?
YES! Our artificial pet turf is 100% safe for both pets and kids!
Not only do our turf products promote superior drainage so that there is no standing liquid creating messes or unwanted odors, but our products are also antibacterial, which helps to eliminate germs. In addition, artificial turf means that there is less natural material for bugs and other pests to feast on, forcing them to find another place to call home. Artificial turf means less mess, less germs, and less bugs, which is great for pets, kids, and, well everyone!
How much does artificial grass for dogs cost?
The cost of artificial pet turf will vary from installation to installation. Cost is influenced and determined by the following:
– Square footage of the project area
– Type of pet turf product chosen
– Amount of base used (if more than the normal amount)
– Amount of edging used (if more than normal amount)
– Any special requests
Do you install artificial grass for more than pet areas?
Ideal Turf is the #1 Artificial Grass & Synthetic Turf Company in Texas.  We design and install artificial grass for both residential and commercial applications, such as:
Residential Applications
– Roof / Deck / Patio
– Swimming Pools
Commercial Applications
– Architects
– Pet Care Facilities [Vets, Shelters]
– Home Builders
– Pool Builders
How is the urine & waste handled?
Our artificial grass for dogs is equipped with the turf industries most efficient drainage system. We call it the "Cascade Drainage System". Each part of the drainage system allows for optimal flow, so liquids (like urine) can flow through the sand, backing, and base easily. Removing solid waste is the same as with natural grass lawns, only it tends to be easier with synthetic grass installed by Ideal Turf.
How do you clean synthetic pet turf?
How do you remove dog fur from artificial pet turf?
If your pups a shedder, removing dog fur from artificial pet turf is a simple and straightforward process.
— You'll need a soft bristled push broom.
— Spray the synthetic pet turf with water
— Immediately after, grab your push broom
— Brush WITH the direction of the fibers
— DON'T use brush strokes
— Hold the push broom at waist level [against your belt]
— Start at one end & walk the broom to the opposite side
Will my dog think that it's natural grass?
Dogs absolutely LOVE artificial grass lawns & landscapes! They can run, play, and roll around in artificial grass all day long, and not track a single muddy paw print into the house!
Will my dog try to dig a hole through the artificial pet turf?
TRY?
Yes… Almost certainly!
Succeed? Not likely!
If your dog is already a digger, they are going to be persistent about it, but our pet turf was designed, manufactured, and rigorously tested to ensure durability and longevity. In these cases, we do recommend a different installation method when putting in the board around the perimeter to provide additional strength.
Does Ideal Turf install Pet Turf where I live in Texas?
Headquartered in Fort Worth, Texas, Ideal Turf has professional artificial turf and synthetic grass installation crews that serve customers in and around the following cities: