Roof, Deck & Patio Turf — The Perfect Ground Cover for Outdoor Areas!
Maximize the outdoor living space at your home with artificial grass on your roof, deck, balcony, or patio. Keep reading to discover the many unique uses and benefits of artificial grass for homeowners!
Turf Products
Roof, Deck & Patio Turf Quote
Artificial Grass Roofs, Decks & Patios — Professional Design & Installation
The last place anyone would think to put artificial turf would be the roof, right? What about turf on your deck or patio? Ideal Turf transforms these areas into beautiful outdoor living spaces that enhance your quality of life by creating more usable and functional spaces. Innovative solutions from Ideal Turf provide endless possibilities for using artificial grass in areas previously unimaginable.
When you allow Ideal Turf to install artificial grass on top of your Texas home, you are investing in a truly low-maintenance product. You will never need to stain, sand, paint, or weather-proof a wooden rooftop deck again. Artificial grass rooftops are a truly cost-effective and long-lasting solution compared to traditional wood or composite wood decking.
Residential Artificial Grass Roof, Deck & Patio Solutions
Transform your ordinary space into the perfect, lush, green personal oasis you've always wanted while still putting some green back in your wallet.
Rooftop Turf
Artificial Grass Decks
Patio Turf
Natural Looking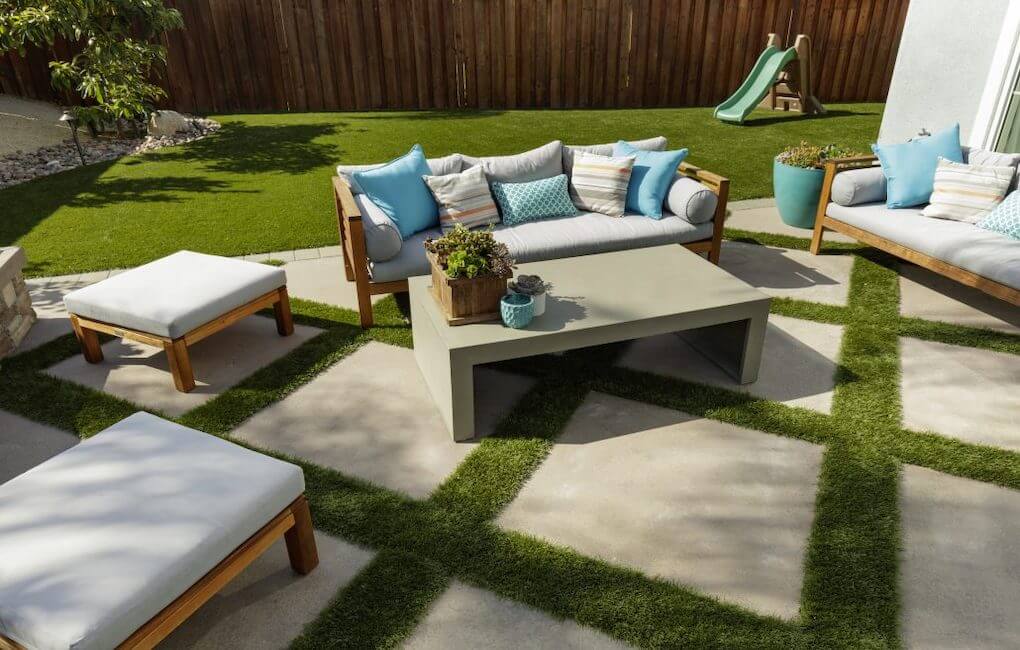 What Are The Benefits Of Artificial Turf for Roofs, Decks & Patios?
Artificial grass for your Texas home's rooftop, deck, or patio will enhance the aesthetic of your yard and provide a number of benefits, as well. Using our superior turf products we design and install your artificial grass to perfection. No detail is left out.
Recent Artificial Grass Roof, Deck & Patio Installations
When you need artificial grass in Texas, let your first call be to Ideal Turf. We are professional, timely, and creative in our rooftop, deck & patio designs. Our skilled technicians are trained in the latest in modern technology when it comes to artificial grass installations, so you can be sure you will get lasting results.
Roof, Deck & Patio Turf
Frequently Asked Questions
Below are the most frequently asked questions that we hear regarding artificial grass for rooftops, decks & patios. If you have a question but don't see the answer below, please reach out and let us know.
Does Ideal Turf install roof, deck & patio turf where I live in Texas?
Will my dog damage or destroy my artificial grass roof, deck or patio?
No. The brown spots or destroyed areas that you are accustomed to seeing with natural sod will not be the case with synthetic turf. Our heavy-duty pet turf will stand up to even the toughest pups.
Our industry-leading 100% permeable "Cascade Backing System" drains an incredible 1,500 inches per hour, so you will not have to worry about odors or mildew buildup from your pets' daily routine.
You simply rinse off the area in question and enjoy a long-lasting, plush, green artificial grass lawn for years to come.
Why should I choose Ideal Turf to install artificial grass?
Ideal Turf is a locally owned and independent artificial grass company.
The synthetic grass products we use have been independently lab-tested and engineered to ensure that you recieve the highest quality, best performing artificial turf products in the industry.
Additionally, our artificial turf installation crews are the best around.
What turf products do you recommend for roof applications?
For roof, deck, patio, and other similar outdoor applications, we recommend the following artificial grass products:
How long does it take to install artificial turf?
Can artificial grass be installed indoors as well as outdoors?
YES!
Absolutely… Ideal Turf offers both indoor and outdoor artificial grass installation for residential and commercial applications.