Playground Turf — The Perfect Kid-Safe Play Area Ground Cover!
Artificial grass for playgrounds is an extremely low maintenance backyard ground cover that Texas homeowners trust to improve their children's safety while playing. It drains well, doesn't need weeding or watering, and has the look of natural grass with a soft cushion for falls.
Turf Products
Professional Backyard Play Area & Playground Turf Installation in Texas & OKC
We use only the best synthetic turf products to protect your children while they run and play. Lush, soft, and realistic our turf also comes equipped with an antimicrobial backing that reduces bacterial growth. Our installation crews each have decades of combined experience, so you can rest assured that only the best turf installers will be handling your backyard playground turf installation.
Create beautiful, safe, low-maintenance play areas around your home. Artificial Grass is hypoallergenic, static resistant, and soft to fall on. Traditional playground ground cover materials such as mulch, wood chips, and even natural grass can be impractical or unsafe in a playground environment. That's why installing artificial grass in children's play areas is so popular as an alternative to natural grass.
Residential Backyard Playground Turf Solutions
The safety of your children is of the utmost importance. It is important to be sure that the playgrounds and recreational areas they are playing on are safe. When children play, accidents, such as falls, do happen. When children fall on a playground turf laid by Ideal Turf, you know that they are as safe as possible.
Under Swing Sets
Under Play Sets
Kid's Play Areas
Natural Looking
Artificial Grass for Play Areas
Expert Turf Installers
High-Quality Turf Products
15 Year Warranty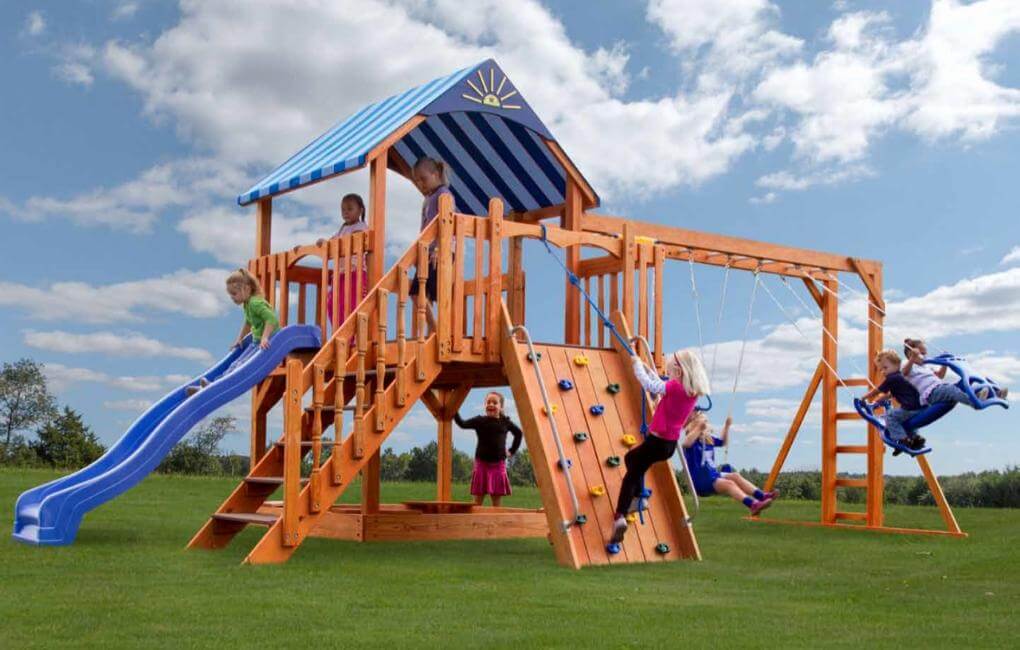 What Are The Benefits Of Artificial Turf Playgrounds & Play Areas?
Artificial grass for your Texas home's backyard playground will improve child-safety when they run and play in your yard and provide a number of benefits. Using our superior turf products we design and install your artificial grass to perfection. No detail is left out.
Ideal Turf's Recent Playground Turf Installations in Texas & OKC
When you need artificial turf in Texas, your first call should be to Ideal Turf. We are professional, timely, and creative in our backyard playground turf solutions. Our skilled technicians are trained in the latest in modern technology when it comes to artificial grass installations, so you can be sure you will get lasting results.
Playground Turf
Frequently Asked Questions
Below are the most frequently asked questions that we hear regarding backyard playground turf. If you have a question but don't see the answer below, please reach out and let us know.
Do I need a safety pad under my Playground Turf System?
We've installed Playground Turf for dozens upon dozens of customers throughout Texas, and none of them have chosen to add the optional foam padding that so many turf companies boast about. Our high-quality artificial grass products combined with our rounded silica sand infill produce an artificial grass play area ground cover that's soft and safe enough for children to play on worry-free. Our play area surfaces provide children with enough protection from falls while avoiding the sky-high prices that come with the foam padding.
Will my dog damage or destroy my playground turf?
No. The brown spots or destroyed areas that you are accustomed to seeing with natural grass will be a thing of the past with synthetic turf. Our artificial grass will provide the perfect space for both kids and pets to run and play. You won't even have to worry about cleaning muddy footprints or paw-prints from the floors or furniture. Our heavy-duty pet turf will stand up to even the toughest pups.
Why should I choose Ideal Turf to install artificial grass?
Ideal Turf is a locally owned and independent artificial grass company.
The synthetic grass products we use have been independently lab-tested and engineered to ensure that you receive the highest quality, best performing artificial turf products in the industry.
Additionally, our artificial turf installation crews are the best around.
How long does it take to install playground turf?
This depends on the size of the installation and how much preparation is necessary to get the area ready for installation. To get a more specific timeline, please Contact Us to Request a Free Quote!
Can artificial grass be installed indoors as well as outdoors?
YES!
Absolutely… Ideal Turf offers both indoor and outdoor artificial grass installation for residential and commercial applications.
How long does Playground Turf last?
Our turf products have a 15-20 year life expectancy. Our warranty guarantees that it won't fade or fall apart and that it will look great for years to come!