Turf Logos — Custom Artificial Grass Inlay Logos
If your company is looking to stand out from the crowd, consider rendering your logo in Ideal Turf artificial grass. The versatility of fake grass can give your façade or entire building greater visibility, stronger branding, and a unique look that will certainly draw interest.
Turf Products
Artificial Turf Inlay Logos By Ideal Turf
Pre-Fabricated artificial turf inlay logos from Ideal Turf will "set off" any turf installation. From high-end fashionable landscape designs to the sport's logo of your school's mascot, our turf inlay logos are ready for anything. Using precise CNC water jets allow for high levels of intricately cut detail for even the most sophisticated logo.
Upgrade your landscaping to an attractive, memorable, and innovative landscape with our turf inlay logos. Using a state of the art water jet to precisely cut our synthetic turf, we're able to ensure your logos and images look crisp and perfect. We offer a variety of colors and can create and install a logo on your synthetic turf that matches your company logo.
A custom landscape design will boost curb appeal and draw in new business. Our artificial turf logo installations create a unique and interesting focal point for any commercial property or business. There is no space too large or small for artificial grass installation. Consider the following applications:
Sports Fields
Gyms / Workout Areas
Common Areas
Entertainment Venues
Event Areas
Activity / Game Areas
Schools / Day Care Facilities
Commercial Buildings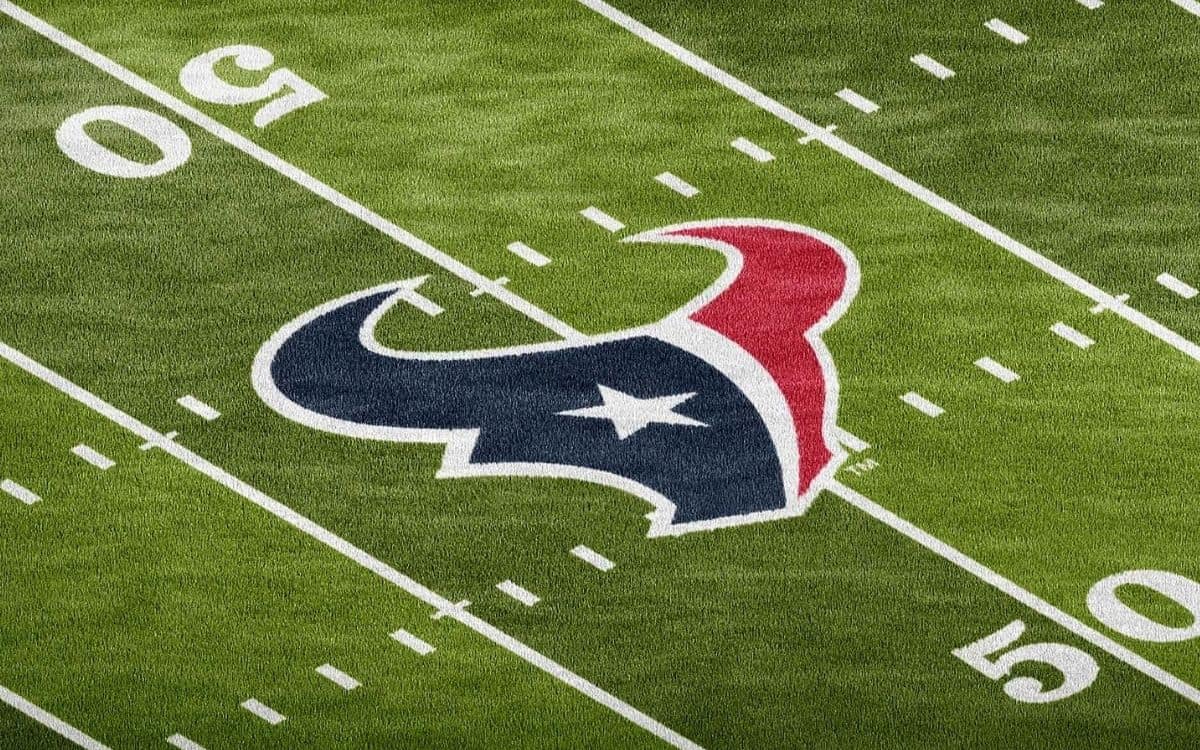 What are the Benefits of Artificial Turf Logos?
If you're on the fence about artificial turf inlay logos, not to worry. Below we've outlined a few of the benefits you'll enjoy by having a custom turf logo installed at your school, business, or commercial property!
Why Choose Ideal Turf To Install An Artificial Turf Inlay Logo At Your School, Business, Or Property?
Recent Artificial Turf Logo Installations
When you need artificial grass installed at your school, commercial property, or business in Texas or Oklahoma, let your first call be to Ideal Turf. We are professional, timely, and creative in our commercial turf solutions. Our skilled technicians are trained in the latest in modern technology when it comes to artificial grass installations, so you can be sure you will get lasting results.
Artificial Turf Logos
Frequently Asked Questions
Below are the most frequently asked questions that we hear regarding artificial turf inlay logos. If you have a question but don't see the answer below, please reach out and let us know.
Does Ideal Turf do Turf Logo Installations Where I live in Texas?
Headquartered in Fort Worth, Texas, Ideal Turf has professional artificial turf and synthetic grass installation crews that serve customers at locations throughout Texas and now in Oklahoma as well!
Texas Locations:
Oklahoma Locations:
How do you Cut the Artificial Turf Logos?
Using a state of the art Water Jet to precisely cut our synthetic turf, we're able to ensure your logos and images look crisp and perfect.
What is a "Waterjet"?
Waterjet technology is basically the flow of water to the pump, which then reaches pressures up to 100,000 psi. It then travels through high-pressure tubing and out to the cutting head.
Pure waterjet cutting is used for applications that take into consideration the speed of the waterjet cutting, reliability, and minimal residual moisture. The residual moisture residue is very low because of the very small stream of water that is used to cut the material.
Will Dogs Damage Artificial Turf Logo?
No. The brown dog urine spots or destroyed areas that you are accustomed to seeing with natural grass lawn will not be the case with synthetic turf. Our heavy-duty pet turf will stand up to even the toughest pups.
Our hybrid "DUAL FLOW" backing system drains an incredible 1,548+ inches per hour, so you don't have to worry about odors or mildew buildup from multiple pets' daily routines.
You simply rinse off the area in question and enjoy a long-lasting, lush, green artificial grass lawn for years to come.
Why Should I Choose Ideal Turf to Install my Turf Logo?
Ideal Turf is a locally owned and independent artificial grass company.
The synthetic grass products we use have been independently lab-tested and engineered to ensure that you receive the highest quality, best performing artificial turf products in the industry.
Additionally, our artificial turf installation crews are the best around.