Really want to know what artificial grass is made of?
We're going to cover our artificial grass and turf composition as well as why many homeowners are switching from normal grass lawns to artificial grass.
We'll give you a hint: It's because of the eco-friendly, non-pesticide, and low maintenance benefits that families, pets, and children enjoy.
But, what is artificial grass made of that makes it so amazing and worth the switch?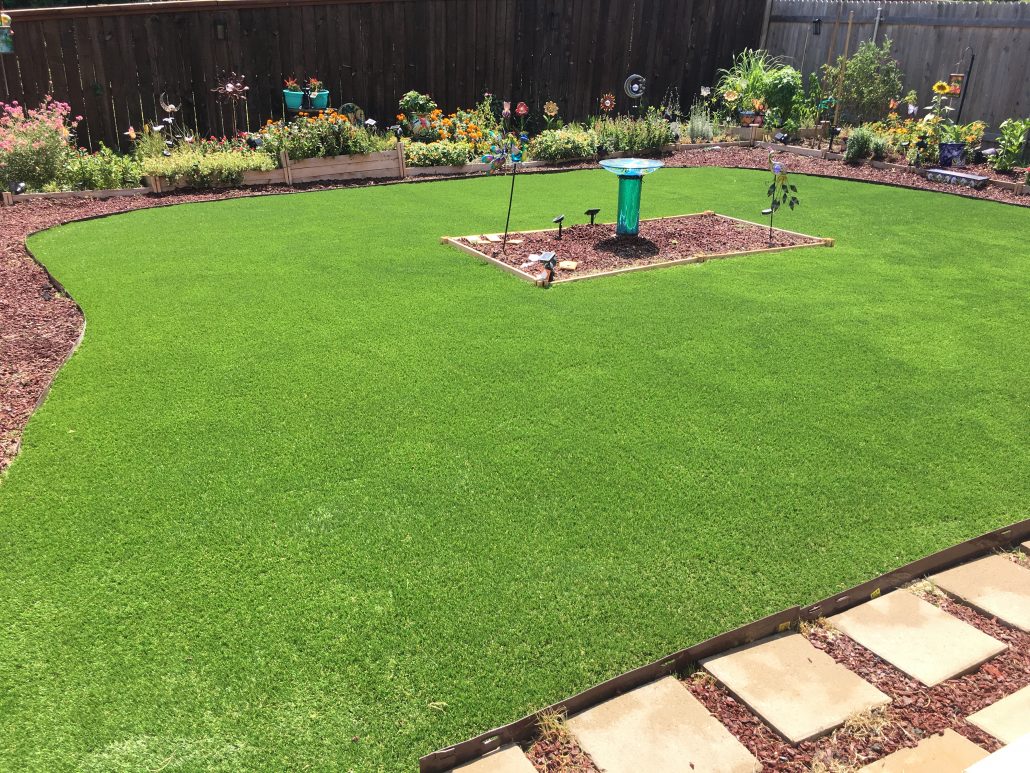 Artificial Grass Composition: Fibers & Yarns
Artificial grass or commonly known as synthetic grass is composed of specially designed fibers nicknamed yarns, made of high quality polyethylene that maintains its color year round. At the same time it has no toxic substances or heavy metals that you find in pesticides and other yard treatments, making it not only look beautiful without wear and tear, but also extremely beneficial to the environment.
If you're unfamiliar with polyethylene synthetic grass, it's a material similar to what you see in grocery bags. The difference is in the added effort that goes into preventing it from fading or changing color with UV inhibitors and stabilizers. The UV treatment prevents the Sun's UV light and heat to damage your synthetic grass as well as help with durability from walking/running feet and paws, mold, and other environmental challenges that come with living in Texas.
Ideal Turf artificial grass has been tested to be 100% eco-friendly, and our artificial grass fibers are more durable than competing brands. Our grass can outlast your dogs, sports, pets, current real yard, and any competitor artificial turf. Tested and proven, our turf is the best we've ever seen and up to any challenge.
Synthetic Grass Infill: What Is Infill Made Of?
In the case of natural grass, nutrients from the ground shoot up the roots and into the blades of grass to give it support and strength. Since synthetic grass doesn't require nutrients, it needs to receive support in a different manner. Artificial turf has a durable backing to help, but it's the infill that gives what you would consider the roots of the artificial grass it's continued support.
Ideal Turf infill is a rounded silica within the artificial grass that supports the grass fibers, by helping them maintain their color, durability, and prevent water retention that could cause mold and mildew. Our infill has been engineered and tested to be the best and most durable in the market. However, there are several types of infill out there that you might want to know more about that include:
Ideal Turf's Rounded Silica – Great for surviving the sun, is extremely durable, and comfortable on the feet. Our rounded silica doesn't trap water or pet odors and has the highest drainage rate of 100%. It doesn't hold any water.
Angular Silica – Derived from quartz and eroded by wind and water, these small granules have decent drainage, suffers from being known to harden and lose its permeability. It also has the issue of trapping pet odors because of the drainage issues.
Thatch – Made up of dead leaves and debris, pets love this infill as it feels more natural to them.
Rubber – Common to football and other sports fields, this turf is made of rubber from old tires and such, but doesn't do well in the Texas heat.
Use the Best Artificial Grass
Our goal at Ideal Turf is to provide the best artificial grass and infill to meet your needs. We'll walk you through all of the options available, answer your questions and give the best recommendation as to what type of artificial grass and infill will work best. Simply give our office a call to learn more!