All pets are different in that they leave a different size footprint with varying weights, sizes, and come with different requirements for managing everything they leave behind after being outside. In this cats are quite different than dogs. That's why at Ideal Turf, we've designed the best artificial grass for cats in 2020.
Synthetic grass for cats should be durable, yet low-maintenance compared to traditional grass and even comparison to what's needed to handle larger pets such as dogs. Cats require much less upkeep and so does our synthetic grass as our artificial grass:
Requires no water
Doesn't deal with the annoyance of regular lawn care such as grass cutting, lawn treatments, and pest control that is neither good for the environment nor your precious cat
Is scratch resistant
Stays beautiful all year long
Most importantly is 100% safe for your cats and other pets.
Because of the amazing design of Ideal Turf's artificial grass, your cat can enjoy the outdoors in a natural feeling environment.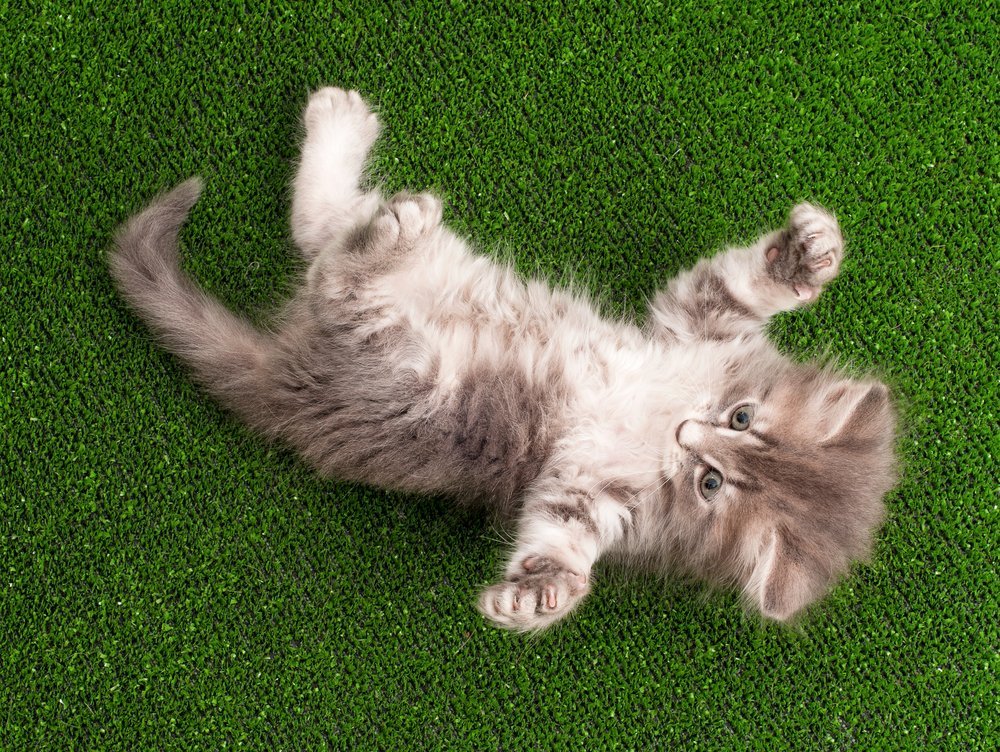 Benefits of Artificial Grass for Cats
If you're a cat owner, there's quite a few reasons you should look into installing artificial grass for your home.
It's Durable and Scratch Resistant
Cat claws are sharp and cats enjoy scratching at just about everything. If you choose to use turf to replace your natural grass, you'll want a turf made of high-quality construction that can withstand your cats claws for years on end without receiving extensive damage. Your cat will also enjoy a comfortable surface to lay on outside, lounging, exploring, and hunting outside.
Excellent Drainage
While cats are great at self care and using their restroom inside, should your cat relieve itself on your artificial grass, it won't leave any odor or cause damage to your yard. Unlike natural grass that turns yellow and brown from the acidity of pet urine, our synthetic turf at Ideal Turf can withstand the ammonia in cat urine and keep its beautiful color.
Cleaning Made Easy
Artificial grass by Ideal Turf is extremely simple to clean. Even easier than your cats litter box. Simply pick up your cats droppings like normal and hose down the lawn. Our artificial grass doesn't retain water and will do the rest on its own. No liquids, no odor, no problems!
Cat Safe & Cat Friendly
It's no joke taking care of your natural grass without using harmful chemicals or anything toxic that could harm your pet cat. However, with artificial grass, there's no chemicals or toxins needed to applied to our synthetic turf. All of our turf options are completely safe for animals and especially your family cat(s).
100% Fun, 0% Mess
Having to clean up muddy paw prints can be one of the most annoying parts of having a pet. While we love our cats, they can quickly dirty our home with their tiny little paws when you have a normal lawn. By switching to artificial grass for cats, you never have to worry about cleaning up your pets paws before they come inside again. They get 100% of the fun with 0% of the mess.
The Best Synthetic Grass for Cats
If you do decide to take the leap and install artificial grass, you will find that there are a lot of options to choose from. If you want to make sure that your grass is safe for your cat then there's no better place to call for pet and cat friendly artificial grass installation. Contact us today!