Fundraising for a new playground/artificial turf for your existing playground doesn't have to cause headaches!
In this blog we give you fundraising ideas, practical tips, and advice on overcoming donor resistance.
In no time at all you will raise the funds you need to install or upgrade your play space.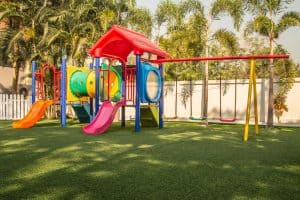 Tips on Fundraising for an Outdoor Play Area
Fundraising, a word that strikes fear into the hearts of leaders of non-profit organizations everywhere. It doesn't have to though! With an effective plan, a whole lot of grit, and your personal strengths fundraising can be fun, efficient, and most importantly raise the money you need to install artificial turf. Our tips on fundraising for an outdoor play area will get you the new or upgraded play space you need in no time! 
An effective fundraiser needs the following:
A clearly defined goal. Example, Raising X dollars to install artificial turf at our facility. 

Specific target audience(s). Who are you trying to raise money from? Why should they give it to your organization?

A good leader/leadership team. Somebody who will keep all the plates spinning and spearhead the fundraiser. 

A realistic timeline and dollar amount goals. 

You! Your passion and determination to have a better organization is half the battle. 
How Artificial Turf Benefits Your Organization 
Artificial turf has a myriad of benefits for outdoor play areas for schools, daycares, churches, or other non-profit organizations that benefit children. Your organization will save overhead because you do not need to maintain the turf with regular watering or landscaping. You also keep harmful chemicals from pesticides and other lawn treatments out of the play area, which can negatively affect sensitive individuals. The play area will always be aesthetically pleasing, leaving others with a good impression of your organization. 
Most importantly, the money you save can be redirected back into your organization, allowing you to use those funds in other ways to benefit the children.
Fundraising Ideas
The best fundraising ideas are the ones your target audience(s) will respond to. This could mean asking for straight donations, selling chocolate bars, or holding a silent auction. It could mean more than one fundraiser tactic. Take the time to think through who is most likely to respond to your message with their wallets and then create a list of goods or services you can offer.
Specific ideas include:
Grants – depending on the nature of your organization you may be eligible for grants from certain government organizations. 

Sponsorship – Use your network and ask business owners to sponsor your organization.

Donations – Ask directly for a one-time or ongoing donation. 

Events – The sky's the limit with the type of event you can hold and your target will respond to. 

Ideas include: walkathon, silent auction, gala, catalog sales, baked good sales, awards nights, fairs, etc.  
Overcoming Resistance 
You have a great idea, a defined goal, and a specific target audience, so why aren't the funds rolling in? Overcoming resistance to fundraising does not have to be a headache. 
The key is NOT to keep asking and asking for funds, but to tell your organization's unique story. Think about why you joined/volunteer with your organization. What motivated you? What keeps motivating you? If you are drawing a blank with your own story, think about your organization's story. What does it do that makes it great or what has it done in the past?
When you remove the 'ask' from your request you can see straight to the heart of the matter and craft a better proposal for potential donors. 
How To Turn Your Fundraiser Into New Artificial Turf
Now that you've raised the necessary money you are ready to turn that cash into green. 
The first step is to contact us here at Ideal-Turf to set up a sales appointment. One of our Design Consultants will come to your location, measure the space you want to place turf, and talk about all of the options you have for installing artificial turf.