A pool is a large investment and as a homeowner you want it to be the beautiful centerpiece of your backyard. One of the biggest considerations you will face is whether to install natural grass or artificial grass around your pool.
First, you will need to ask yourself these main questions:
How much work are you willing to do to maintain your yard?
How do you want your yard to look as the seasons change?
Will artificial grass solve a problem that natural grass cannot?
How will my yard affect my pool?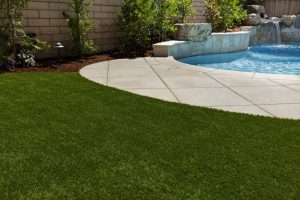 Landscaping and Maintenance
A completely natural yard will require year round maintenance to keep it looking fresh and green. In the summer, this means weekly mowing, trimming, and landscaping to keep your yard (and pool) looking great. In the winter, depending on the type of plants you have, there is less maintenance. However, as things begin to die with the cold weather, the grass turns brown and the overall aesthetic of your yard suffers.
Artificial grass requires a lot less maintenance, but will stay green all year round. You will need to spray it down at least once a month to remove normal dirt and debri, but gone will be the hours and money spent to tame your overgrown grass and weeds. Artificial grass gives you the look and feel of natural grass without having to sacrifice your weekend.
Muddy Yards
It doesn't matter if you have a bunch of rowdy kids or a group of serene adults enjoying your pool, at some point water will splash out of the pool and into your yard.
While natural grass will absorb water eventually, usually this is not before it has time to soak into the ground create mud. Dirty, nasty mud that can be tracked into your home or end up in your pool and turn your clean, clear water muggy. In addition, your landscaping may suffer due to the amount of extra water and the chemicals you will need to put in your pool to restore it's crystal clear beauty.
Artificial grass on the other hand has a highly permeable backing which quickly and efficiently removes water from the surface. That means no mud and no mess, just more fun. In addition, artificial grass does not get slick when it gets wet, meaning the area around the pool will be both beautiful and safe!
Chemicals
You keep your yard weed free with product X and your pool clean with product Y. Both are great at their jobs, but not great for each other.
With natural grass it requires a variety of solvents and solutions to keep pests away and weeds at bay. These chemicals could end up in your pool via bare feet or toys left in the yard, throwing off the chemical balance in your pool. Unlike natural grass, artificial grass requires no chemicals for upkeep, meaning there is less to buy and less to do, leaving you more time to enjoy your backyard and pool oasis.
Environmentally Friendly/Water Conservation
Since artificial grass does not require regular watering or chemicals for upkeep, it is an environmentally-friendly option. Plus, without the need for regular watering artificial grass is extremely useful during those times when we are actively trying to conserve water. No longer will you need to dump hundreds of gallons of water per year onto your lawn to keep it green.
If you are interested in learning more about artificial turf qualities, solutions or installation call us toll-free at 1-800-204-4650. To email or speak directly to one of our local experts here. {