Homeowners are switching to artificial grass for the many benefits including the low maintenance, last beauty, and of course increased home value.
Wait, artificial grass increases home value more than natural grass?
That's right. Homeowners are making the switch to artificial grass because of the long-term investment on their home. Let's look at why: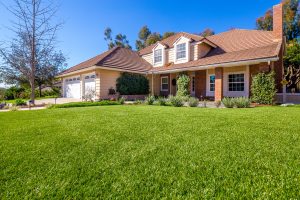 Aesthetics: It's no wonder that the permanent beauty of a home with an artificial lawn stays looking beautiful and retains value over a home that requires costly maintenance all year round. How nice would it be if your grass took care of itself? Cut itself, treated itself, even irrigated well enough to not worry about creating mud. With artificial grass you might begin to ask, "What's mud?" as you won't see that anymore. Having a beautiful lawn that stays looking perfect all of the time is extremely valuable, especially when trying to sell a home.
Homeowner value: Home is much more than just a place to eat and sleep. It's your center, the base of where you begin and end your day, where you enter the outdoors to explore, work, and enjoy life. What better way is there to add value to your home than by reducing the workload required to maintain your home? Time is money and time can also be an increased amount of joy and excitement in having more time to do the things you love. If you're looking to make your home worthy of selling, want to do more outdoor living, and enjoy hosting parties, BBQ, or just watch the kids and pets play, then making the switch to artificial grass is the way to go.
Monetary value: It's easier to grab the attention of potential buyers if you're house has the "wow" factor. Curb appeal is a major factor in the value of your home if you're at the point you're ready to sell it. Our amazing artificial grass at Ideal Turf is made to look great for practically forever. This can greatly increase the value of your home in a direct monetary sense.
Golf: Yep, that's right. Artificial grass is amazing for adding in putting greens of all sizes. If you've got the space and a plan in mind, a little putting green or a small golf course is a great way to increase your property value.
Want to Increase Your Home Value with Artificial Grass?
If you're looking to increase your home value in a creative new way, that you can also cash in on at any point in time, then now is a great time to install artificial grass for your new lawn. Call now – grass experts are standing by.